What our clients are saying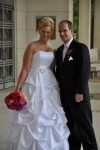 Dear Melissa,
I cannot thank you enough for the wonderful job you did with our invitations, programs, seating chart and table numbers! I thoroughly enjoyed working with you and would highly recommend you to anyone! I cannot tell you how many compliments we go on all of your work! You truly have a gift and the passion for your craft! On a personal note, I will miss seeing you and chatting! You are such a delightful person to be around! We'll keep up on Facebook at least! Thanks again!

- Kristi and George
Melissa and Mike,
Words can't describe to you how thankful we are. The work you do is truly incredible and I love every piece of it! Love, Shayna and Jake
Melissa,
Thank you for making the beautiful wine card box for Amber and Ryan's wedding! It turned out great and is such a good idea! We hope we're able to work with you more through The Gifted Wedding in the future and look forward to seeing you at the launch party! - Thanks again, Briana Jansen and The Gifted Wedding team
Dear Melissa,
I wanted to send a note and thank you for the amazing programs you designed and created for our wedding on June 27th. I was blown away when I picked them up from Mike and so many of our guests commented on how great the programs were. They truly exceeded my expectations. Thank you for all of your help with invitations and table tents as well. Please feel free to use me as a referral for future clients. - Sincerely, Heather Lampert
Review from Wedding Wire
"Melissa created our invitations, menu cards and programs. Everything was just stunning. She really puts her heart into her work and it shows. She is very professional and provides a wonderful service to her brides!" - weddingwire.com user angiemr04
Review from Wedding Wire
"Our invitations were so unique! Melissa put together these invitations with embossed metal to match our theme. She also printed up menus for us on translucent paper so we could put them on these metal backers with a magnet. It turned out so cool! When we had to alter a few things, she was easy to deal with. I was picky about the wording, not to mention all of the details, and she seemed willing to do whatever she needed to to get us what we wanted. The thank you cards, programs, place cards…everything was great." - weddingwire.com user k2b2
Review from Wedding Wire
"Melissa was one of my favorite vendors. She created a completely custom stationery suite for us and her prices were really reasonable. She created invites, menus, table numbers, escort cards, a custom monogram, napkins and programs. Everything was beautiful. The wedding was 2 months ago and I'm still getting compliments on our invitations. Plus Melissa's really sweet. She was very patient with my rounds of revisions and the end result was exactly what I wanted." - weddingwire.com user STLcat82
Review from Wedding Wire
"M. Haley Design is absolutely amazing! Starting with my initial consultation to the final product, I've been wowed completely! It is always a pleasure to see someone who really loves creating and Melissa strikes me as someone who's truly passionate about her craft. It was an honor to work with someone so gifted. Each project is more beautiful than the next! If you're looking for one of a kind, timeless, and exquisite work, be sure to use M. Haley Design. I assure you the compliments will never stop if you do!" - weddingwire.com user coley
Review from WeddingChannel.com
5/5 stars She is FABULOUS! posted 8/9/2010 M. Haley is the best! She met with us as many times as we needed, and made everything exactly how I wanted it. Everything turned out perfect. She also comes up with great ideas to help add some interest to your stationary for your big day. She is also a great price for what you get!
Review from WeddingChannel.com
5/5 stars Could not have been more impressed! posted 9/4/2010 Melissa is absolutely amazing! I cannot begin to tell you how much we LOVED our invitations, programs and seating chart/table numbers! She coordinated all of the elements perfectly! I had initially brought her a photo of an invitation I loved but the company could not make it in my colors! She took the design and used my colors and somehow made it even better than the picture! I had so many compliments. People who sent regrets in made a point to comment on the card how beautiful the invitations were! She is absolutely amazing!!!! - WeddingChannel.com Review
"I'm so excited to have found your expertise and skills! Everything you did for the party was exceptional…saving every piece. Plan to use you for all my stationary needs in the future. You're the best!" - Michelle L.
"Thank you so much for doing everything for our wedding. Our invitations, programs, table numbers and seating charts were awesome! Everything turned out wonderfully! You were so easy to work with and so professional! It was such a pleasure to work with you!" - Justin and Tiffany
"Ordering my stationery for the wedding was probably the most stress-free process of the entire planning process. You made the process so smooth and most importantly, FUN! Keep up the good work and I will definitely send others your way in the future for their stationery needs! Thanks again! It was a delightful experience!" - Andrea
"You are truly a GODSEND! Your talent is AMAZING! Your professionalism is PRICELESS!! You were a pleasure to work with in getting the invitations, programs, and menus completed for my wedding. I am still receiving compliments on them, even though the wedding is over. Thank you for everything!" - Aundrea
"Thank you so much for all of your help designing and creating my gorgeous invitations. I also wanted to thank you for keeping me on track with the dates and giving me so many helpful tips. Our invites are sure to be a hit and your service will come highly recommended." - Amy
"You can tell that you really care about your customers! You do an excellent job handling concerns and questions. Your responses are always timely, which was very nice! I have had a great experience with your company and will recommend M. Haley Design to everyone!" - Denise
"Thanks so much for all of your help over these past months! I really appreciate your services and couldn't have gotten what I wanted elsewhere." - Michelle
"Thank you so much for your hard work. Thank you for listening to us and creating our dream invitation!" - Crystal & Sergio
"Thank you so much for your amazing hardwork & absolutely PERFECT invitations, thank yous, programs and menu cards!!! I'm sure from the pictures you can see how your work really made our wedding. Everything you did was a reflection of our day and it was so great that it became our theme. I will definitely be recommending you to everyone." - The Sauskas
"I thought Melissa did such a great job on the menu cards that I had her do our programs. If I would have known about M. Haley Design sooner, I would probably have used them for invitations, Save the Dates etc. Melissa is a pleasure to work with. I found her to be delightful and creative and I look forward to using M. Haley Design for my next daughter's wedding." - Joan Lewen
"Nobody else I have worked with has been as responsive, kind and flexible. Not to mention the fact that half the guest list made it a point to tell me that I had the prettiest invitations they had ever seen. The level of quality you deliver is exceptional." - Katie